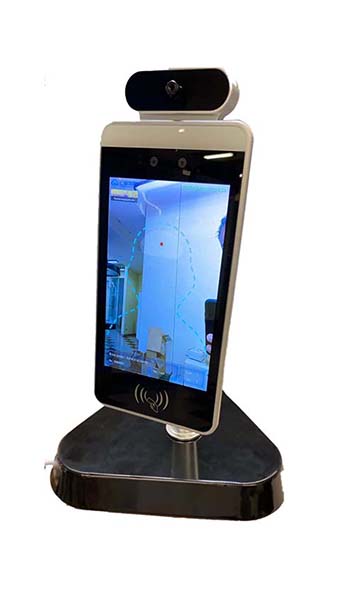 BT-TC8
Code: 83701
Thermal camera designed for integration with individual access gate that allows the detection of body temperature to keep epidemics under control.
The device is perfect for carrying out a first screening on people who access a specific place, automatically intercepting suspicious cases. It can be used by companies, shops, public facilities, airports, stations, fairs, shopping centers, hotels and any place with people passing by with the aim of monitoring access in real time and without errors.
It detects the temperature of the individual and can immediately block access. Temperature detection is reliable and fast, with an accuracy of ± 0.3 ° C. Additional functionality: facial recognition of the individual stored user or employee, to regulate access to company buildings and recognition of mask presence.
IR CAMERA
– IR measurement: 8-14 um (human body typical is 10 um)
– IR resolution: 32 (H) x 32 (V)
– Sampling frequency: 30 Hz
– Measurement distance: 0.5m ~ 1m (best 0.75m)
– Accuracy: ± 0.3 °C
– Typical target temperature: 30 ~ 45 °C
LCD AND OPTIC CAMERA
– Camera: 2 MPx
– Display: 8-inch IPS HD screen 1024 x 600
– Face storage capacity (optional): 20.000 people
– Recognition accuracy (optional): 99.50%
– Face recognition speed (optional): about 200ms
– Illumination: Infrared light / white light
– Identification distance: 0.5m ~ 2.2m
DEVICE
– OS: Android
– Interfaces: N.2 USB (Host and OTG), RS232, RJ45, DC 12V IN, relay output, Wiegand 26/34 (IN-OUT), Wi-Fi
– Data communication: TCP/ IP
– Power input: DC 12V (max. 14W)
– Device size: 133 x 260 x 62 mm (133 x 345 x 62 mm with bracket)
ENVIROMENTAL
– Working temperature: – 10 °C ~ 60 °C
– Storage temperature: – 40 °C ~ 70 °C
– Working humidity: 10% ~ 90% non-condensing
– Storage humidity: 5% ~ 95% non-condensing
Fill in the following form to request information about the product: