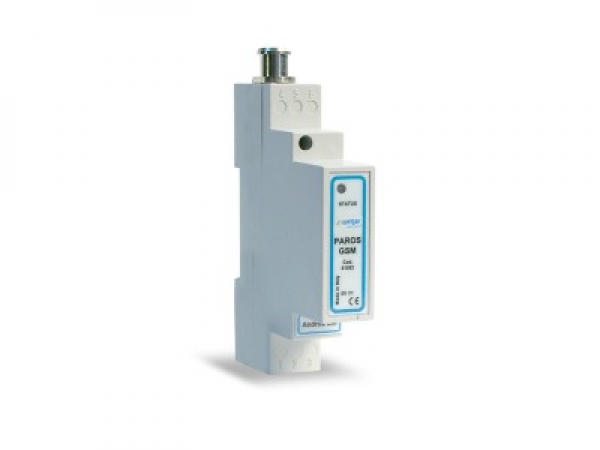 Paros 4G
Code: 61952L
LTE modem for data transmission for the ANDROS controll unit, allowing communication with the remote management software.
PAROS 4G is equipped with:
a "functioning" green LED
a red "Status" LED:
a stylus antenna to be connected to the connector (if the signal is too weak, it can be replaced with a magnetic base antenna with a 2.5 m cable)
a "slide" housing for the SIM card accessible by opening the PAROS 4G container
The modem responds to AT commands, among which are the commands for the verification of signal quality (AT + CSQ). With this command, the modem responds with the value corresponding to the amplitude of the received signal and to a value corresponding to the BER (Bit Error rate).
PAROS 4G works correctly when the amplitude of the received signal is higher than 10 (greater than -93dBm). Lower values do not guarantee the quality of the connection.
WARNINGS
PAROS 4G must be equipped with a SIM card (not included)
The PIN code must be disabled by the SIM card before inserting it into the PAROS 4G disabilitato dalla SIM Card prima di inserirla nel PAROS 4G
Check that the SIM card is enabled for both incoming and outgoing data traffic
Switch off the power supply to the PAROS 4G before inserting or removing the SIM card
Do not power the modem without an antenna correctly inserted
Power supply: 5Vdc +/- 10%
Current: 100 mA / 930 mA
Operating temperature: – 20°C + 70°C, @ 90 % max U.R.
Electrical insulation: Classe III
Transmission technologies: GSM/GPRS/EDGE/HSPA+/WCDMA
Andros connection: via cable for modular RJ45 plug (supplied)
Protection degree: IP20
Dimensions: 145 x 90 x 70 mm  (1 DIN modules)
Weight: 15 g
Fill in the following form to request information about the product: