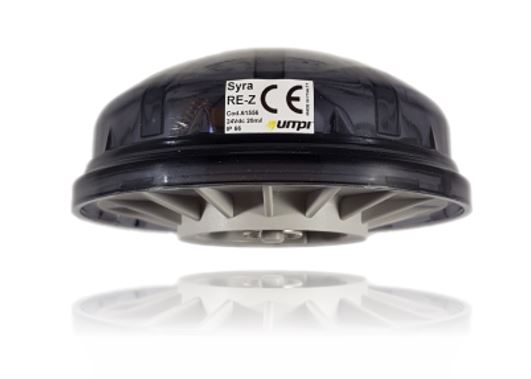 Syra RE-Z
Code: 61456NZ
SYRA RE-Z is a radio LoRa device with Zhaga Socket connection, to be coupled with lamps equipped with an electronic dimmable ballast, compatible with DALI standard protocols.
In order to execute the power reduction on the lamp, it is although mandatory that it is provided by and electronic dimmable ballast, with dimming interface DALI.
Dimming
standard DALI: it is done by the electronic ballast, according to the power level communicated by the SYRA RE-Z
Command & Control functions
on/off lamp or dimming command with DALI
Measurement
Syra internal temperature through DALI port. ​
The SYRA RE-Z  device can also be used in installations where there is no remote control unit at the cabinet level. In this case, the SYRA RE-Z  is configured as "timed stand-alone", ie the device is able to execute up to 3 power reduction (or increase) commands.
The 3 automatic reduction timers can be configured by setting a pre-set delay from the moment of ignition, or from the "mid-night point".
Power Supply: 18 – 30 Vdc
Power consumption:  0,5W @ 24Vdc
Lamp power:   20-250W
Operating temperature: – 25°C + 65°C
Box: Polycarbonate – color: Smoke grey
Electrical insulation: Class III
Protection degree: IP66 / IK09
Dimensions: Φ84 x 30 mm
Weight: 100 g
Fill in the following form to request information about the product: